Divine is tucked into the Texas Hill Country, located at the junction of Heather Rainier's romantic imagination and her wildest fantasies. Like many small towns, the citizens look after each other, gossip about the rule-breakers, and are in each other's business.
Divine has developed an extended family of characters involved in ménage love relationships. Curvy heroines who discover what they want and set out to seize the day, and the rugged, sexy heroes who desire their curves.
How does a woman inspire two or more men to love her so much they're willing to share her? Come to Divine and explore with Heather Rainier why it's possible for one woman to have a heart big enough to love more than one man.
An Unprecedented Triple Release
Coming May 6th!
The next story in the Divine Creek Ranch Collection:


 Cassie Villalobos made a promise to Samson and Ivan Cutter on the day they graduated high school that she would pursue her dreams of becoming a singer-songwriter no matter what.
Raised under the dictatorial thumb of her father, Cassie's promise went unfulfilled. Newly single, her hands are full running her coffee shop, Divine Drip, and dealing with her aging parents, and lothario ex-husband.
Samson and Ivan left Divine after graduation, never intending to return, but they've never forgotten their love for Cassie.
Banked embers flare between the three at their thirty year class reunion. Although she has friends in ménages, Cassie is intimidated by the desire of two men, believing she is past her prime and the men set out to change her mind.
Samson's passion for sadism is balanced by Ivan's easy affection, and Cassie finds the combination irresistible. Hope flares for fulfilling all her dreams while stirring the distorted illusions of someone obsessed with controlling her.
~~~~~~~~~~~~
The Newly Updated Third Edition of
The Insider's Guide to the Divine Creek Ranch Collection
Including Divine Deja vu – an original Divine Creek Ranch ménage novella
FREE!
Coming May 6th! Pre-order Here: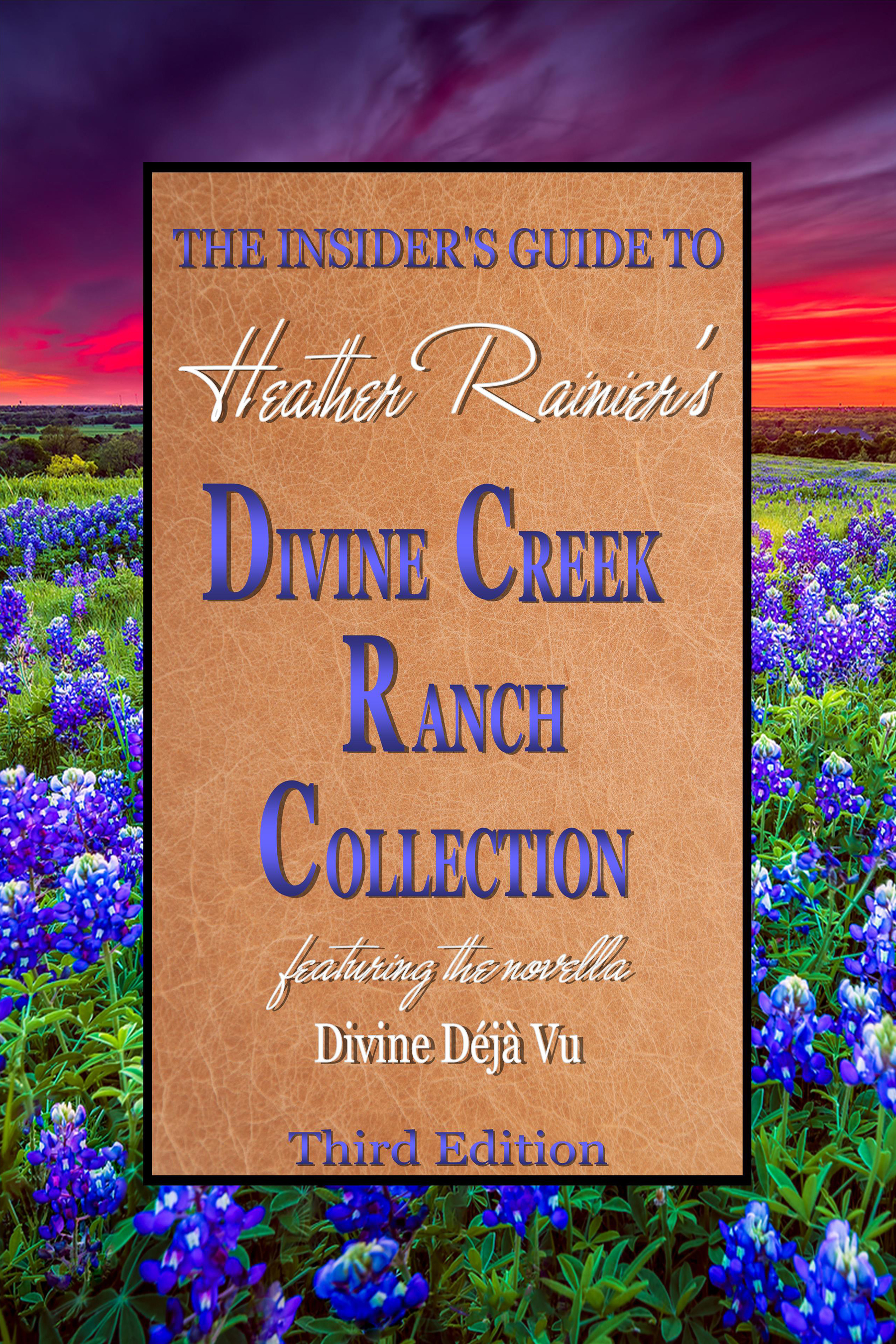 Dive into the iconic world of Heather Rainier's Divine Creek Ranch and explore the inspirations for the series.
The guide gives an overview of each book, offers Heather's insights into her writing, character summaries, music playlists, and her favorite excerpts from each book. It also features an original Divine Creek Ranch ménage novella entitled Divine Déjà Vu, which is available only with the guide.
In Divine Déjà Vu, LuAnn and Maynard have moved on from their dramatic first encounter in Divine Phoenix . Eight months along in their relationship, Mayn returns home with an unexpected guest. LuAnn's introduction to Mayn's brother Daniel is eerily similar to her first meeting with Mayn. As they overcome embarrassing circumstances to explore the undeniable pull LuAnn feels for both brothers, can she deal with the prospect of another long distance relationship?
~~~~~~~~
The Divine Creek Ranch Collection Boxed Set, Volume One
Coming May 6th! Pre-order here: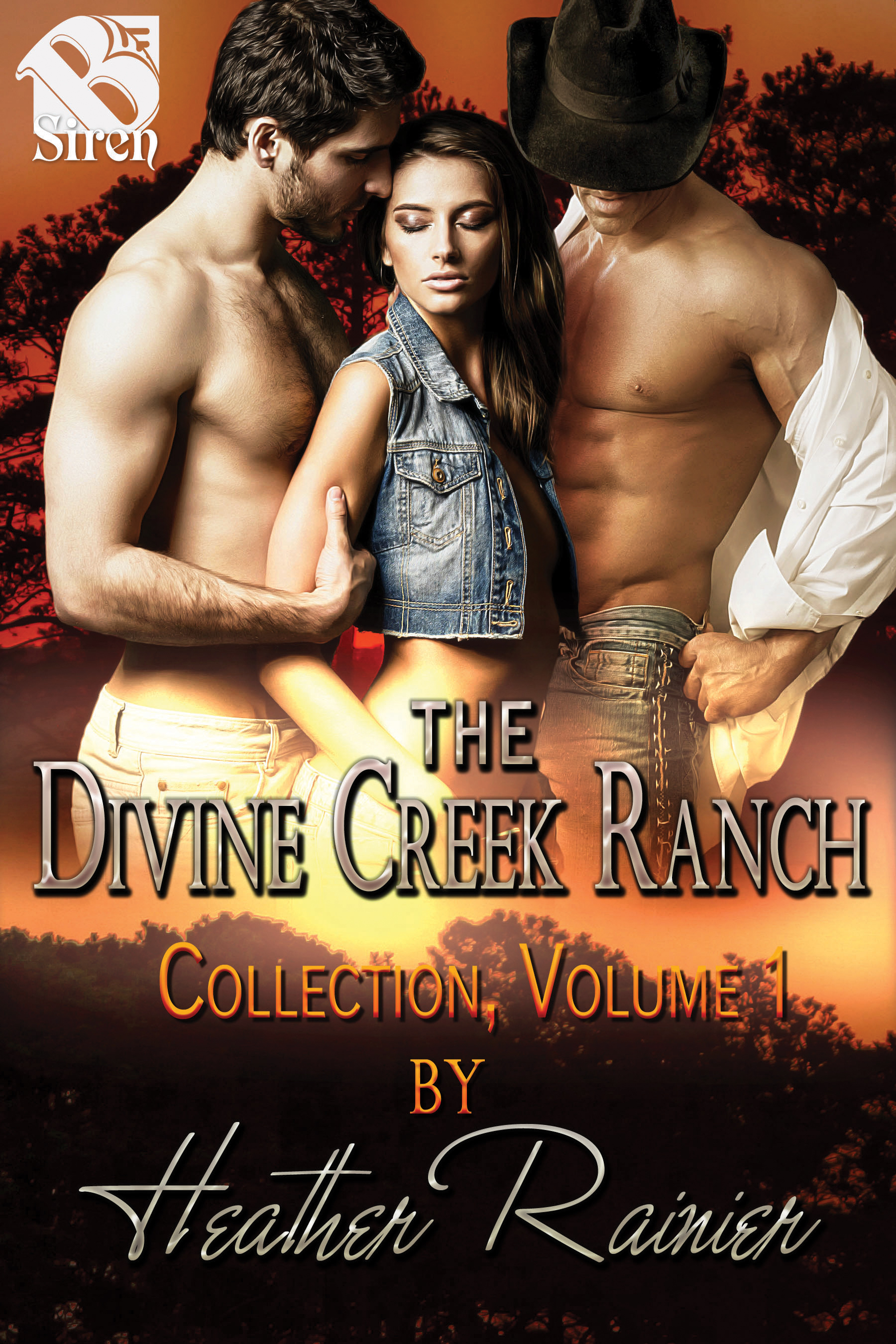 The Boxed Set Features the first three stories in the series:
In Divine Grace, with the help of three gorgeous men Grace is able to free herself from an abusive boyfriend. Jack, Ethan, and Adam know they have found the one woman they want to pleasure and protect, but the real difficulty comes in convincing her that their interest is in far more than just a fling. For them, this is forever.
In Her Gentle Giant, Part 1: No Regrets, Eli Wolf, a cross between Viking and Indian warrior, has found in Rachel Lopez someone infinitely more compelling than the women who flock to him nightly as security at The Dancing Pony Nightclub. When Rachel's apartment burns down, Eli invites her to stay with him and begins the work of overcoming Rachel's jealous nature, the one thing that could keep them apart.
In Her Gentle Giant, Part 2: Remember to Dance, as Rachel and Eli prepare for a future together, painful memories surface from Rachel's past. Though she protests to be unaffected by them, Eli is not so fast to forgive. He recruits the men of Divine Creek Ranch in his effort to correct the offense. Rachel confronts a test of her own as she decides once and for all whether her trust in Eli is absolute.
In Heavenly Angel, Angel Martinez spends months patiently coaxing the beautiful Teresa out of her self-imposed shell. Teresa has left a painful past behind in order to begin a new life for her and her son. She cares deeply for the Divine Creek Ranch foreman but, just as she is ready to let her guard down, the arrival of Joaquin, Angel's brother, throws her for a loop. Now her efforts of moving on are doubly tested as she considers the alluring possibility of having both the heavenly Angel and the devilish Joaquin.
The boxed set all together is 500,000+ words! An amazing value at $4.99! Give it as a gift for Mother's Day! 
~~~~~~~~~
Bunny and the Beast
Hard-working, strong, and sassy, Bunny Carrigan desires a simple life, far away from the complications of the big city, posh houses, and materialism. She makes her own rules and has no time for pushy men in fancy suits or playing games.
Joseph Hazelle enjoys taking control and has very set ideas about what the ideal submissive looks and acts like. In fact, his ideas are so set they might as well be concrete. Vibrant and full of life, Bunny challenges Joseph's preconceived notions and she's determined that if she submits at all, it's going to be on her own terms.
Accustomed to being the instructor, Joseph discovers that Bunny has claimed his lonely heart and has a thing or two to teach him. All he has to do is educate her about his world and convince her that she does indeed "do" submission. What could go wrong?


Please visit my Works in Progress page for updates about upcoming stories